Toy Review – Lego Duplo – My First Vehicles Set
We absolutely love Lego/ Duplo in my house so it is no surprise really that my first toy review will be a Lego/ Duplo review really. However, I love the stuff because they have something for everyone from small toddlers/ children right up to adults.
So today I thought I would look at the My First Vehicles Set by Lego Duplo. My son has this set and he loves it, he will spend ages creating many vehicles and using them in his various different games.
My First Vehicles Set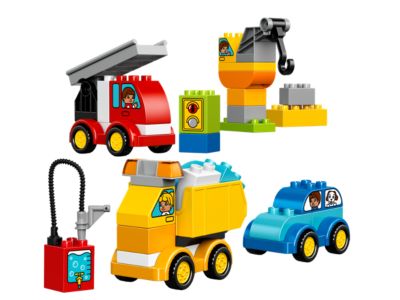 The set includes many pieces that you can mix and match in order to create many vehicles, including wheelbases, many vehicle parts including a ladder and crane, different driver windows, traffic light, water pump, and a variety of different coloured bricks. In total, the set has 36 individual pieces so that is more than enough to keep your child busy.
If your child is as mad about cars or vehicles as my son then they will absolutely love this set, and Duplo sets are made for preschoolers and younger children in mind, this particular set has an age guide of 1 1/2 to 5 years.
The price of this set is not too bad for everything you get; at the Lego Store, the price is £14.99.
What can your child do with this set?
Basically anything, this is a good you that they can play with on their own and with others. My son is quite happy to play with this set by himself and occasionally he will want me to play with him and we have both come up with some interesting creations.
I think that is the brilliant thing about Lego in general you can follow the box and the build instructions or you can build your own thing. You can also mix and match as well, for instance other sets you can get which will compliment this set is the
Firetruck Set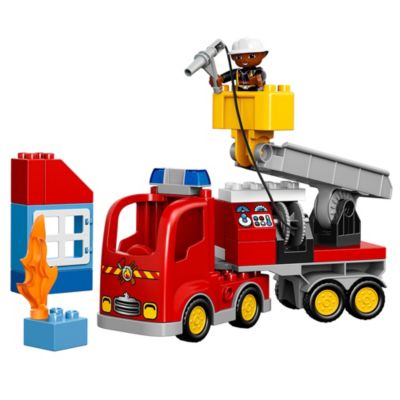 These sets could be played with either on their own or with the My First Vehicles Set.
The pros and cons of the My First Vehicles Set
The pros are definitely the range of different Lego Duplo bricks and objects that you get; they all fit together nicely and are well-made and fit together nicely. They have managed to survive my son playing with them so they have a lot of durability.
From a developmental standpoint, the set will help stimulate your child's creativity; they will be able to work on their problem solving and fine motor skills. You can also use them to practice counting, colours, naming objects. Lego can provide many opportunities to teach your child without them really noticing, I use Lego a lot when trying to teach my son.
The cons, the biggest con I find with any type of Lego set is the many pieces, this particular set has 36 pieces, so that is 36 things which can go missing. It is not too bad if it's just a regular brick but if it's something of importance like the crane or one of the wheelbases then that could potentially cause problems. I think when it comes to Lego it is always important to have good storage and to put away once finished.
Still, even if you do not lose the pieces leaving them around is painful, have you ever stepped on a Lego brick? Duplo bricks are no better!
Final thoughts
The Lego Duplo My First Vehicle Set is a must if your child loves cars and building things. A nice simple set is perfect for children to play on their own and with others. The nature of Lego also means that this set is good as a standalone set or being mixed and matched with other sets.
Lego is brilliant for a child's learning and development and they will practice vital skills even without your input.
However, try not to lose or step on any pieces!
To buy the My First Vehicle Set or any other set then Shop Lego
Please follow and like us: